Taiwan 3000 gpd Ro Machine in bangladesh
Description
Taiwan 3000 gpd Ro Machine price in bangladesh
A 3000 gallons per day (GPD) reverse osmosis (RO) machine is a type of water filtration system that uses a semi-permeable membrane to remove impurities from water.
The process begins with the water being pumped into the system under high pressure. The water then passes through a series of pre-treatment filters, such as sediment and activated carbon filters, which remove larger particles and dissolved contaminants. The water then passes through the RO membrane, where dissolved ions, molecules, and larger particles are removed. The purified water is collected on the other side of the membrane, while the impurities are flushed away as reject water.
RO system also has a monitoring system like pressure gauge and flow meter to monitor the flow rate and pressure of the water passing through the system, it also have a control system to maintain the water pressure to ensure the optimal performance of the membrane.
The 3000 GPD rating refers to the maximum amount of water that the system is able to process and purify in a day. It's a commercial or industrial system that can be used in a wide range of applications, including municipal water treatment, industrial process water, and seawater desalination.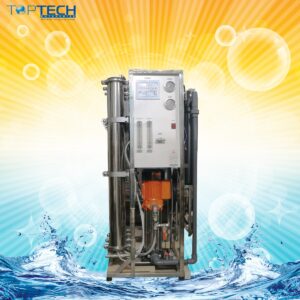 Mobile/WhatsApp:
+880 1717180857